Our Customers References
The Toughest Concrete Solutions in Ontario!
What Contemporary Concrete Solutions Customers Have to Say…
Lucas did an great job – I think he was there until after 8 last night.
I would recommend him anytime. You can let him know that he (or you) would be welcome to bring by potential customers to see the quality of his work.
– Dennis Jones, 620 Davenport
My name is Bob Harris president of Decorative Concrete Institute located in Temple Georgia. October 2010, I published my fourth industry related guide titled Bob Harris's Guide to Polished Concrete Floors. This was the fourth book in a series from the Bob Harris collection.

When it came time to source high resolution images from contractors from around the world for the new book, Lucas Rolland, owner of Contemporary Concrete Surfaces was one of the first companies to send in his project photos for our consideration to use in the book. Upon reviewing his work, it was clear that their projects were very high-end with a high degree of attention towards detail. We used several of Contemporary Concrete Surfaces' photos throughout the book and when it came time to choose the pictures for the front and back covers of the book, we chose two of Lucas's projects.

I believe in giving credit when it is due and this certainly is the case with his company. Hat's off to the work you do and thank you for contributing to the industries first of its kind book, on polished concrete.
– Bob Harris, Decorative Concrete Institute
Just wanted to say how much I enjoyed meeting you. I am very impressed with what you have accomplished in the 5 years you have been running. I know that once the floors we do together get noticed it will explode!  Boarders are a beautiful way to finish any room or hall. They seem to make people notice the floor more. They bring the eyes down if done right. So the floors gets that much more notice. I am looking forward to our first project together. I enjoyed seeing the floors at RBG. I would have loved to be a part of that one! I am looking forward to our next meeting. Hopefully it will be for a project.

Thanks again for the meeting and hope to hear from you soon.
- Jeff Dawe
I read over this blog here on polished Concrete In Toronto Lofts and can only agree that polished concrete is the way to go. Not only is it trendy and low maintenance it was the most reasonable product without skimping on quality. I called a few contractors last year and found prices to be all over the map. I had meetings with a few of the contractors to supply me with references and previous jobs and advise anyone else looking to have this done do the same.  If you are sold based on price my research proved to be you that you will get what you pay for. We actually managed to talk to some people who's experience was not so positive, and the outcome was not what they were promised. I understand no one can guarantee the amount of stone exposure unless they poured the floor. Our loft was 1200 sq.ft and the contractor came in removed the existing carpet , ground off the glue left from the carpet and polished this floor so glossy that it made a reflection in the floor of everything. The he even painted a 3 inch border around the perimeter on the floor to cover the patch holes he had to fill because the carpet track was nailed to the floor. The company I used was Contemporary Concrete Solutions of Grimsby Ontario.  I dealt with the owner, Lucas Rolland. My experience was really positive.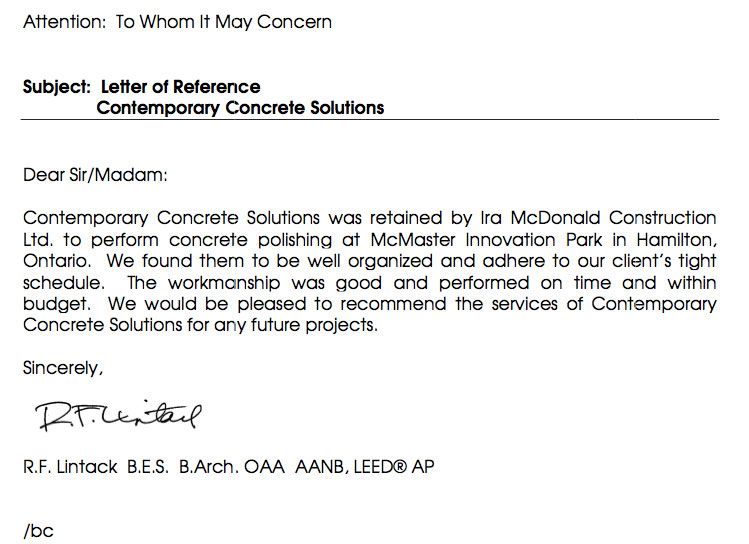 I have known Lucas Rolland for approximately 5 years. During that time I have found Lucas to be punctual and eager and as a contractor he has performed all of the projects I am aware of professionally and on time.
- McMaster Innovation Park in Hamilton
- Royal Botanical Gardens in Burlington
I would recommend Lucas and Contemporary Concrete Solutions Inc. for any concrete resurfacing project new and/or existing projects.
- Joseph M. Venditti, JMV CONSULTING